Here's the list of games and stuff I'm looking forward to. there is no structure here, only things I'm too hyped about and other stuff I order online and waste too much time refreshing the damn shipping status.
---
Ninja Turtles madness
When I was a baby, my life was as simple as a switch that goes between "Fucking Happy" and "I'm so sad i'm gonna shit my pants" (which I did a lot during that period I like to call "fecal era"). So what I mean is that little things, such small details as simple as the taste of what I was eating, would make me so happy and left hard memories in my brain. When I grew up, I stumble upon (makes me sound adventurous but is actually my parents who just did this magic tricks) Teenage Mutant Ninja Turtles cereal. I already had plenty of TNMT merch : The Leonardo Chair, Leonardo mask, the actions figures, shredder poster and my first crush APRIL O'NEIL. I could have been a merch selling guy. at 8 years old, perhaps the most genius marketing career was ahead of me and THAT would've seduced April.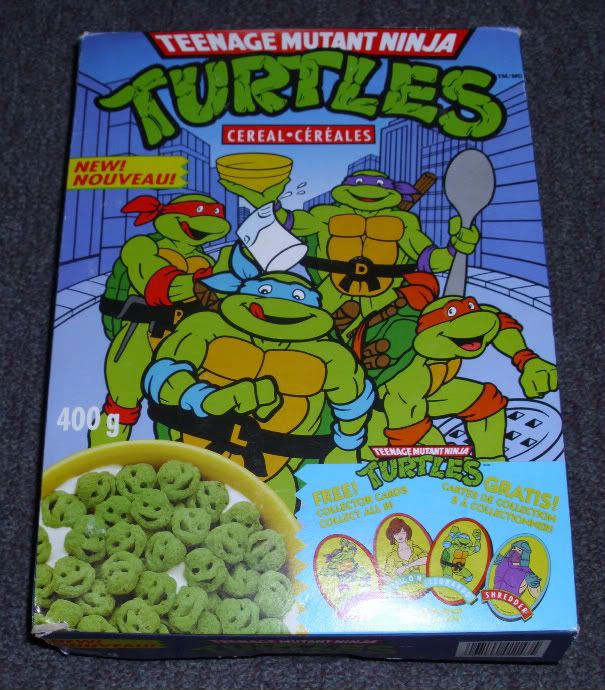 Long story short, TMNT made my childhood a good and happy one. I saw the new movie last weekend and despite all the disaster I thought it would be, it turns out it is very good. I bought the special TMMT soda cup with a Donnie figures on top as a souvenir. I'm so pushed back into TMNT world again that I ordered 2 volumes of the Comic ultimate series (of 5 in total). Never read them and since this is the beginning of it, I can't help but do it.
I still wish I could find those cereal again, though.
---